November 14 and 15, 2023
CONFERENCES
Watch innovative communications about what our sea can bring to the economy, with a wide range of speakers such as fishing, fish processing, innovation, research, nautical tourism and shipbuilding, among many others. (Presential, at the Cruise Terminal of the Port of Leixões or Virtual in livestreaming)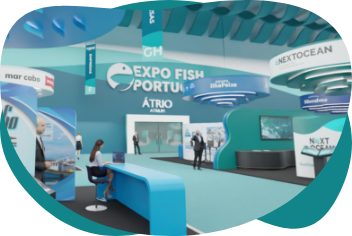 Expo
360º virtual space. Find the business partners you are looking for, to a diversified range of products, such as wild fish, aquaculture and fresh and frozen fish.Find innovative solutions for your product with the right partners. Explore the world of shipbuilding yards, portuguese marinas and nautical tourism.
Contact exhibitors instantly via live-chat.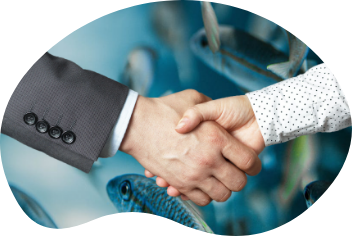 B2B
Good business is obtained from people and with people. Schedule your meeting with exhibitors, clarify your doubts, show your services and products and celebrate partnerships, all in the same virtual space and without having to leave your office.
We are here to facilitate your business, you can count on our support at all times.
Gallery
See the best videos and images from Expofish and industry sectors
News
Take this opportunity to expand your business.
Estão abertas as candidaturas para a 2ª Edição do Prémio Inovação Expo Fish Portugal
PRÉMIO INOVAÇÃO
EXPO FISH PORTUGAL (2ª EDIÇÃO)
Having as its study theme "Innovation and research linked to the sea food sector", the 2nd edition of the Expo Fish Portugal Innovation Award aims to identify and support projects/companies characterizing the reinforcement of innovation, in the area of food originating from the sea, changing processes and transferring knowledge in the area of sustainable fishing, the creation of innovative processes and new equipment and the creation of digital processes and solutions.
The Application Phase will run until 10/31/2023 and the winning projects are eligible for a monetary prize of €5,000.00 for 1st place, €4,000.00 for 2nd place and €3,000.00 for 3rd place place and will be presented at Expo Fish Portugal.
Apresente a sua candidatura, aqui.
No caso de dúvidas ou dificuldades na inscrição, contacte expofishportugal@docapesca.pt.

Exhibitors 2023
Riberalves

LUGRADE

SOGUIMA S.A
Marinas and Recreational Ports

NORD DRIVESYSTEMS PTP LDA
Seaproject - Projectos e Investimentos, Lda.
BITCLIQ TECHNOLOGIES, SA
Producer Organization / Association / Sector Support

AIMM - Associação para a Investigação do Meio Marinho
SEAentia Associação Portuguesa de Aquacultores
Nautiber Estaleiros Navais do Guadiana

Sopromar
EXPOFISH Portugal highlighted,